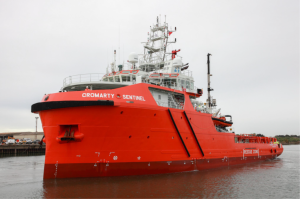 The Port of Lowestoft, owned and operated by ABP, the UK's leading ports group, has invested over £600,000 to enhance its infrastructure and support Peterson's business growth.
Peterson, who are a valued customer at the Port of Lowestoft, have recently announced a new contract to provide integrated logistics services to ODE Asset Management (ODE AM). These services will include quayside services, fuel bunkering, road transport and other logistics support for offshore assets in the Southern North Sea managed by ODE AM.
Over the past 12 months, ABP has made a number of investments to upgrade Town Quay within the Inner Harbour, Peterson's main base in Lowestoft. These include the enhancement of security features, resurfacing, reconfiguration of buildings, installation of new fencing, sub-surface fuelling facilities and power upgrades, which together create a well-equipped area for customers.
Speaking about the new deal with ODE AM, Jason Hendry, Managing Director for England and Renewables Strategy at Peterson, said: "We are delighted ODE AM have chosen Peterson as their logistics partner in the Southern North Sea, and we look forward to supporting their operations from our Lowestoft base.
"We have made a long-term commitment to the Port of Lowestoft, and we feel confident that ABP's recent infrastructure improvements, together with our own plans to establish a new Control Tower at the Port, will help us to deliver service excellence to all of our customers in the years ahead."
ABP has also invested in its marine services by acquiring state-of-the-art pilot boats across the group including the Kingfisher in Lowestoft and recruiting and training new marine pilots. These enhancements will contribute to attracting more business from Sothern North Sea energy companies to Lowestoft.
Tom Duit, ABP Lowestoft Operations Manager, said: "At the Port of Lowestoft we put customers first, which is why we have made recent investments to ensure that we can provide enhanced infrastructure to help our customers grow.
"We would like to congratulate both Peterson and ODE AM on their business partnership and look forward to working together to continue to bring jobs and investment to the area."
The Port of Lowestoft is also home to the Lowestoft Eastern Energy Facility (LEEF), which will provide a facility that is suitable for Operations & Maintenance (O&M) activities and construction support for the offshore energy industry, helping to transform the town of Lowestoft into East of England's premier offshore energy hub. This will potentially provide a range of growth opportunities for customers in the SNS sector, including Peterson.
The Port of Lowestoft has a long history of servicing the offshore energy sector, as a home to O&M bases for Scottish Power Renewables and Scottish & Southern Energy (SSE). It also benefits from its strategic location and close proximity to Orbis Energy and PowerPark, where key offshore energy developers, operators and service providers are located.
– Ends –
For more information please contact:
Pressiana Naydenova
Corporate Communications Manager
Hannah Kitcher Regional Communications Manager (WSSP)
Mob: 07702 900830 Email: pressiana.naydenova@abports.co.uk
Mob: 07843977827
Email: hannah.kitcher@abports.co.uk