2GW of installed solar PV and growing…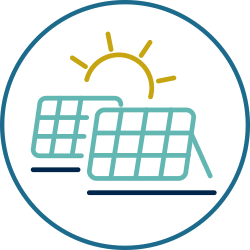 The breadth and depth of the East of England's energy sector is not confined to offshore wind, nuclear and gas. We also have a burgeoning onshore sector with a particular strength in solar PV, as well as onshore wind and bioenergy (for power generation and the production of biogas and biodiesel). These opportunities are set to grow as landowners and farmers look at ways of decarbonising agriculture, including by taking land out of intensive cultivation.
The East of England is well known as a holiday destination in part because it has a reputation for being dry and sunny. In fact, Norfolk and Suffolk benefit from around 1,600 sunshine hours a year, making it an ideal location for large scale solar farms. As a result, the East of England already has in excess of 2GW of solar PV capacity and developers are planning to build many more.
A bright future for Solar
The Sunnica Energy Farm, on the West Suffolk border, would be the region's first grid-scale solar energy farm, with the capacity to send up to 500MW of renewable energy to and from the National Grid. This would be enough to power around 100,000 homes. As well as solar photovoltaic panels, it will include a battery energy storage system, creating resilience in energy supplies. The project, which is classed as a Nationally Significant Infrastructure Project due to the amount of renewable energy it would produce, is currently going through the planning system.
Meanwhile EDF Renewables has proposed two 50MW solar farms for the region, at Tye Lane near Ipswich and Bloys Grove near Norwich. Both would be around 80 hectares in size and include strong commitments to improving biodiversity by maintaining existing trees and hedgerows and planting more. At the same time, by taking the land out of intensive cultivation and encouraging meadow grasses and flowers to grow under the solar panels, the land will in time act as a carbon sink.
There are strong growth prospects for solar in the East of England with generation connection contracts totalling 840MW agreed with UK Power Networks (UKPN) in the first five months of 2021. New large-scale batteries acceptances has also soared this year, including a 90MW-plus site in East Essex.