Gas is the UK's low carbon transition fuel
Opportunities in gas, driving energy transition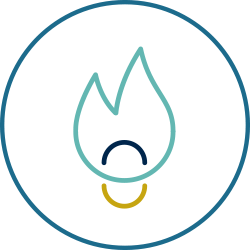 30%


OF UK GAS
139


SNS PLATFORMS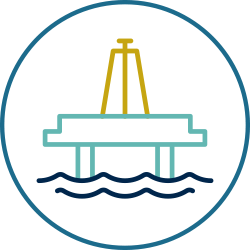 £5.3 BN


GAS Investment TO 2050
5 TRILLION CFT


UNTAPPED GAS
Natural gas from the Southern North Sea (SNS) first became a transition fuel to clean energy generation 55 years ago, when it was discovered off the Norfolk coast. By replacing coal in many power stations, gas helped cut the UK's CO2 emissions by 20% between 1970 and 2000*. Now gas, and its associated infrastructure, is set to be a transition fuel that helps the UK reach its goal of Net Zero by 2050.
The SNS is the UK's natural gas basin and is likely to be a major source of supply for at least 30 to 50 years.  The region already has 100 operational gas fields, 139 platforms and 4,500km of pipelines. There are also some 8.8 trillion cubic feet (tcf) of natural gas in existing reserves and an estimated 5tcf of untapped gas in reservoirs and undeveloped discoveries.
The East of England is home to a highly experienced workforce and supply chain with many industry leaders well established in the area.
Bacton Gas Terminal in Norfolk, which opened in 1968 to bring the first SNS gas ashore, remains a strategically important national energy asset. It now has six terminals across 4 sites, including two interconnectors linked to European gas infrastructure. These enable the UK to import and export gas and so maintain a secure and reliable energy supply.
Bacton is responsible for delivering around 30% of the UK's total gas requirements through the national transmission pipeline. This is vital for industry as well as UK homes (80% of which use gas for cooking or heating). Both the SNS and Bacton sustain high skilled, high value jobs in the region and continue to help attract billions of pounds of investment to the UK.
Carbon Capture, Utilisation and Storage
The SNS is well placed to develop Carbon Capture, Utilisation and Storage (CCUS) technologies. Bacton Gas Terminal and its proximity to depleted SNS gas reservoirs and infrastructure, such as the Hewett field for storage capacity, could facilitate the transition to Net Zero by tackling emissions from existing energy assets, providing solutions in hard to decarbonise sectors and support the rapid scaling up of low-emissions hydrogen production.
REPURPOSING OPPORTUNITIES
As well as repurposing and upcycling existing gas assets, we must face the challenge of decommissioning many of them. According to the North Sea Transition Authority the SNS has more than 164,800 tonnes of ageing infrastructure, some 20 years past its planned lifespan, which will need to be brought to shore for recycling and disposal.
The SNS is ideal for testing new decommissioning methods because the gas platforms are smaller than elsewhere and its shallow waters make it easier to handle vessels, infrastructure and equipment. There are also a number of service ports in close proximity with talented workforces, making it easier for businesses to find experienced professionals to collaborate on projects. You can see one such venture already in Great Yarmouth, where Peterson and Veolia have partnered to create an environmentally friendly decommissioning facility that is already handling SNS recycling projects.
Whether your business is interested in decarbonising the gas sector or helping to decommission assets, Norfolk and Suffolk has the talented workforce and experienced partners to help you succeed.